Geodetic Benchmarks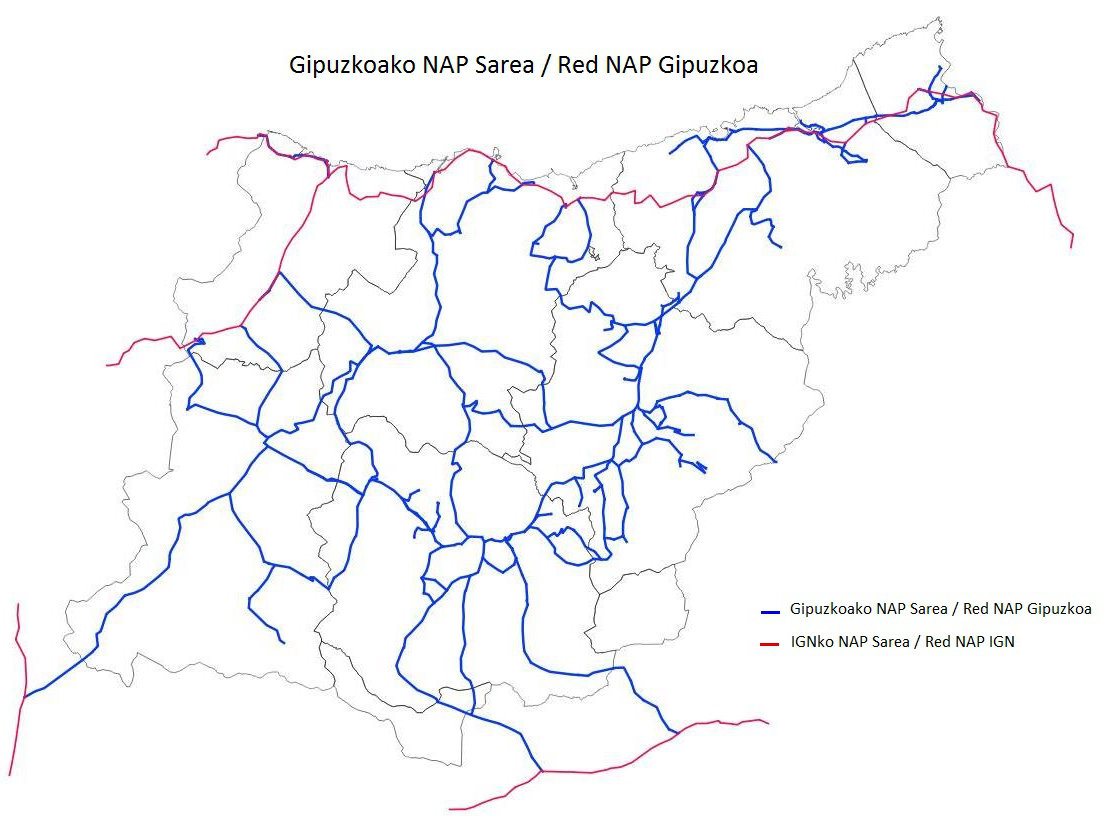 This section contains references in relation to survey control marks installed and observed by the GPC. The geodetic benchmark information refers to the following observables: latitude, longitude, height above ellipsoid, height above mean sea level and gravity.  All these observables are supported by:
Gipuzkoa GNSS Network
Gipuzkoa HPL Network
Gipuzkoa Gravimetric Network
Currently, the user has 94 IGN leveling benchmarks and 1190 GPC's geodetic benchmarks (404 passive GNSS, 828 NAP and 172 NP). Since 2011, 25259 references have been downloaded, averaging 183 monthly downloads.
For each local council, you will also find a report with the Helmert adjustment parameters for the transformation of municipal topographic stations (from ED50 to ETRS89), and another height report to RedNAP08 and EVRF2019.
Choose a local council and download the reviews in PDF format.
Geodetic signs in Gipuzkoa from other entities:
- National Geographic Institute (IGN):
 - Local councils of Gipuzkoa:
Many local governments have created and maintain nails from networks of urban topographical stations (2700 nails) and some of them are accessible on official municipal websites. The user must refer to the local council to obtain information in this regard and take into account that they may be old networks where the transfer parameters proposed on this website will have to be applied to adapt to the current geodetic frameworks.

History
1985
The Gipuzkoa

PL

Network is created,

linked to IGN's HPL Network.

1987


The monumenting and expropriation of access under easements and visual of the 4th Order Network ends.

The calculation of ED50 combined solutions ends in 1995.
2002


The Network of Passive GPS Stations is created with 11 vertices of the 4th Order Network and calculating ETRS89 and ED50 solutions.

2004


The Passive Stations Network is densified with GNSS benchmarks in urban areas.

2005
-

The Gipuzkoa HPL Network campaigns begin, densifying and reobserving the old PL Network.


- The Gravimetric Network of Gipuzkoa is created, linked to the Absolute Gravity Station of the UCM in Madrid.
2020


The Gipuzkoa HPL Network ends, linked to RedNAP08, but its maintenance continues.

2021
The CSIC

's

IGEO links the Gravimetric Network of Gipuzkoa to the Absolute Stations of Loiola and Pasaia observed by the

IGN

in 2017.